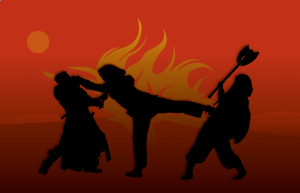 Qu'Mar Ti-jin is a Battlemaster from the worlds of the Imagination. He was born in the Firemarck caravan, one of the many different nomadic tribes of the Jinai people. The Jinai don't use weapons or magic, so they have specialised in nonconvetional, unarmed martial arts. Qu'Mar was trained by his father, the Qu of Firemarck, and other warriors.
After the disastrous disappearance of the Firemarck caravan, Qu'Mar drifted through the worlds. Learning new skills and teaching the Firemarck martial arts. Eventually he was appointed as one of the few Battlemasters of the Jinai.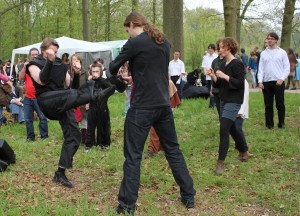 Since 2009 he also visits Our World, where he teaches self defense courses against nightmares and monsters.
Qu'Mar teaches effective techniques (kicks, hits, evasive moves and flying attacks) to fend off the likes of orcs, zombies, trolls, werewolves, wizards, vampires and even dragons!
Apart from the live action workshops Qu'Mar is featured in stories, video's, illustrations and photos, which makes him part of a multimedia project in Our World. His writer, Martijn Lindeboom, has also finished a complete novel about Qu'Mar, called De brandende krijger (The burning warrior). This book is now in the hands of one of the biggest publishing houses in the Netherlands. Publication is planned for 2015.
For the time being this website and all but one of the stories are in the Dutch language. If you can read that (or just want to look around) please make yourself at home at Qu'Mars website.
See below for a selection of images.